Orthopedics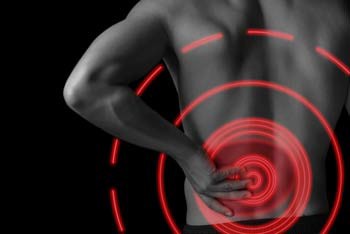 Orthopedic physical therapy involves the diagnosis, treatment and prevention of injuries and conditions related to the musculoskeletal system and associated structures. This generally includes muscles, bones, joints, tendons, ligaments and nerves (or any combination of them).
Joints get stiff, muscles get pulled, tendons tear, nerves get pinched, discs bulge, arches collapse… the number of things that can go wrong with our bodies is a very long list! And we exist for one simple reason… to HELP!! With our education, knowledge, experience and training, we are able to help in these situations. The physical therapists at STEP can help you discover what is causing your problem (diagnosis), what to do about it (treatment) and what to expect (prognosis). We have the ability to treat the majority of conditions, from neurological to musculoskeletal to neuro-musculoskeletal.
We offer free consultations for your injury/condition so CALL TODAY to get yourself back on track!!
Although not an all-encompassing list, here are some common conditions that we treat:


Low back and neck pain
Arthritis
Pre- and post-operative
Whiplash
Carpal tunnel
Radiculopathy

Bulged/herniated disc
Headaches
Rotator cuff
Joint replacements
Dizziness/vertigo
Hip, knee, ankle and foot pain
Plantar fasciitis

Spinal stenosis
Shoulder, elbow, wrist and hand pain
Tendonitis/tendinopathy
Patellofemoral pain
Tennis elbow
Bursitis



We have a multitude of different treatment strategies available in order to get you back in action. Treatment is specific and individualized based on your condition and goals. Treatment goals may vary, but are generally designed to:


Modulate pain
Improve joint mobility
Reduce tightness and tension
Enhance flexibility and range of motion
Reduce swelling and inflammation
Correct faulty biomechanics

Enhance muscle function
Improve walking and balance
Reduce dizziness and vertigo
Facilitate movement
Promote healing



FEEL BETTER > MOVE BETTER > LIVE BETTER
Manual therapy:
Individualized hands-on treatment approach including mobilization, manipulation, soft tissue techniques and myofascial release. Manual therapy, utilized in conjunction with corrective exercise, has continually been proven and validated as the safest, most efficient and effective treatment for many conditions. The specific treatment approach is individualized and catered to your condition. The goals of manual therapy vary, but are generally designed to improve joint and soft tissue mobility, flexibility, reduce spinal stress, normalize movement, encourage healing and reduce pain.
Corrective Exercise:
Includes specific stretching, strengthening, motor control and balance training. If certain muscles are too weak, too tight or not functioning correctly, it can affect how your body moves and operates. This often leads to movement dysfunction and pain. Specific exercises are incorporated into physical therapy treatment, tailored to your condition and directed towards specific goals and treatment response. Physical therapists are exercise and movement specialists who know how, when and why to perform certain exercises to gain a desired response.
Trigger Point/Functional Dry Needling (FDN):
An innovative and specialized approach to pain management and movement dysfunction involving the insertion of thin filament needles into muscles with the goal of reducing muscle dysfunction, improving pain and enhancing movement. Implementation of dry needling is based on palpation, assessment and movement analysis.
[More information is available by clicking here.]
Neural Dynamics:
The use of pain science and nervous system dynamics to influence how the body moves as well as how we interpret sensation, including pain. Neuroplasticity, the nervous system's ability to move and adapt, is a central concept and has the potential to modulate pain, enhance movement and improve neural function.
Specialized Equipment:
We have several specialized pieces of equipment that we utilize in clinic to help expedite our patients' recovery. They include an AlterG anti-gravity treadmill, body-weight support harness treadmills, and Biodex balance platform, to name a few.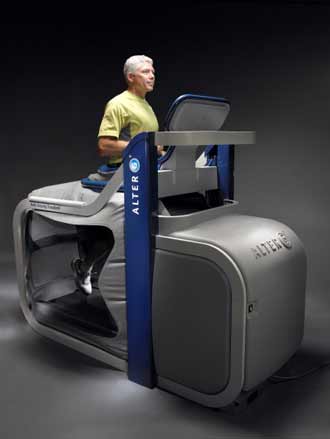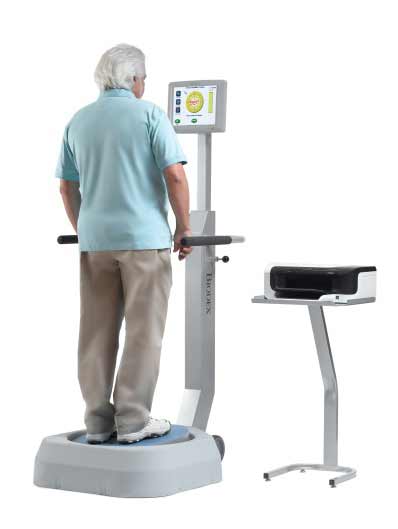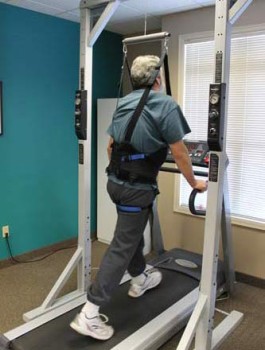 Click here for more information on our specialized equipment
Modalities:
Commonly used modalities include TENS, Neuromuscular Electrical Stimulation (NMES), Functional Electrical Stimulation (FES) and ice/heat. Modalities are usually not considered to be stand-alone treatments, but complement other treatment approaches. They are generally used to help decrease pain, reduce inflammation, promote healing and/or improve muscle function.
LINKS:
Kinetacore: http://www.kinetacore.com/
American Physical Therapy Association (APTA): http://www.apta.org/
American Academy for Orthopaedic Manual Physical Therapists (AAOMPT): http://www.aaompt.org/
Arthritis Foundation: http://www.arthritis.org/minnesota/