Specialized Services & Technologies
At STEP, we pride ourselves in offering specialized treatment techniques for a variety of conditions. We also have in-clinic access to specialized equipment for your rehabilitation needs. The combination of our knowledge, experience, treatment techniques and specialized equipment provides you the best possible chance at recovery.
Specialized treatment:

1) MS-Certified Specialists on staff
2) LSVT BIG Certified (for people with Parkinson's Disease)
3) Trigger Point/Functional Dry Needling
4) Lymphedema management

5) Manual Therapy
6) Myofascial Release
7) Corrective Exercise
8) Modalities

AlterG Anti-Gravity Treadmill
Utilizing its precise unweighting technology, the AlterG allows you to rehabilitate your injury or condition in a way not possible with other treadmills. Whether you require gait retraining resulting from a neurological condition or an athlete trying to get back on the field, the AlterG can be a game changer. It works by reducing gravity's impact on your body, offloading between 0-80% of your body weight!!
Rehabilitate lower extremity injuries with less pain and impact
Improve mobility, strength and safety for those with neurological conditions
Train without pain and reduce the stress to joints and muscles
Provide a safe way to lose weight and exercise more intensively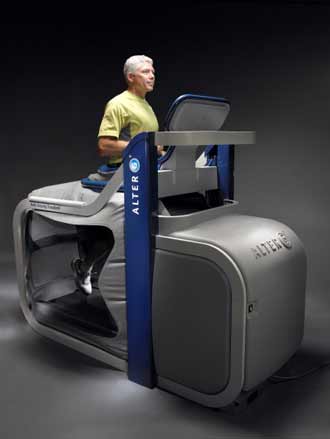 AlterG video:



Pneumex Body-Weight Support Harness Treadmills
Another form of body-weight support walking that utilizes a harness to offload your body in order to improve your gait and balance, reduce pain or decompress your spine. It enhances your ability to achieve proper gait mechanics and retrain your body to move with more freedom and control. Through the harness support, it also allows for decompression of the spinal column, thereby reducing back pain and potential nerve impingement (i.e. sciatica).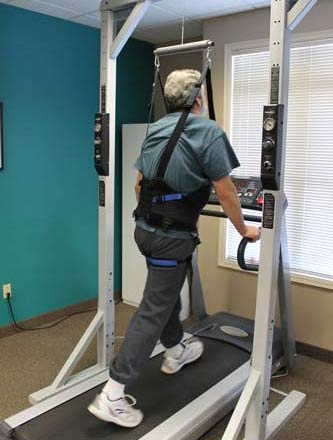 Biodex Balance Platform
Balance, stabilization, postural control, weight bearing, sensory integration, fall risk screening, motor control… the Biodex can address a number of different training components all in one machine! It provides real-time feedback and objective data to track progress and provide results about performance. From MS to concussion to athletics, the Biodex is able to help recover stability and control following disease or injury.